Inside, the new Chris's Restaurant matches its surroundings, with sandstone floors and polished native redgum and blackwood timber. The main dining room radiates around a polished brushbox log over eight metres high, like the centre-pole of a marquee, giving the room a light and airy feel. The floor-to ceiling windows bring the Otways close in.

At sunset the lights of Apollo Bay come on, and at night the lighting around "Chris's" illuminates the ferns and the manna gums (where koalas often feed). The different floor levels give almost every table a good view. There is a wood fire to greet diners in winter, and the specially glazed windows retain the warmth in cold weather. In summer, when it can be hot, even up on the hill, the restaurant is air-conditioned.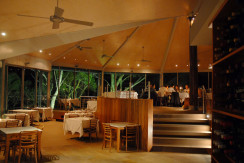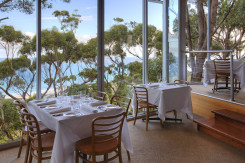 Our food is contemporary with a Southern European and Middle Eastern Influence. Fresh seafood is our specialty, along with a variety of Chris's most popular Greek dishes. In our cuisine, the emphasis is on simplicity and on showcasing the natural flavour of the ingredients. If we can't get it fresh it isn't on our menu.

Our wine list showcases the best wines of our region as well as the finest wines that define the character of Australia's greatest wine regions; especially chosen to complement our menu, with a price range to suit all budgets.
Restaurant Open
Continental Breakfast:
7 Days a Week: 8:30am to 10:00am
Evening Dinner:
7 Days a Week: 6pm to Close
A taste of our cuisine...
Tourism Operators...
Add Chris's Restaurant to your Traveller's Compendium of must see attractions on the Great Ocean Road.