Whole baby squid stuffed with pine nuts, sultanas and spinach on a tomato and basil salad (Serves 4)
Ingredients
Squid & Stuffing
6 medium size baby squid
1 bunch of baby spinach
100 g butter
Crushed garlic
One egg (beaten)
Splash of white wine & chopped herb
6 Spring onions
100g pine nuts
100g sultanas
100g fetta
Tomato Salad
2 black Russian Tomatoes
1 ripe Roma
4 cherry tomatoes
5 sprigs of dill
5 sprigs of Italian parsley
5 basil leaves
Extra virgin olive oil
Red wine vinegar
Salt and pepper
METHOD
Melt butter in pan and sweat off spring onion and garlic.
Add roasted pine nuts, sultanas & white whine; reduce liquid until it's almost dry.
Add spinach and sauté until the spinach is soft. Place mix into a strainer to strain excess liquid and cool slightly.
Place mixture into a bowl and add crumbed fetta, beaten egg and chopped herbs.
Clean squid and stuff with mixture. Close end with a tooth pick and set aside.
Slice tomatoes, place in a bowl and add your herbs and seasoning. Toss together with a splash of vinegar and a good splash of olive oil.
Lightly oil the squid and place on BBQ. Cook for approximately a minute and a half on each side.
Arrange tomato in the middle of a plate, place on top and drizzle with a little extra virgin olive oil.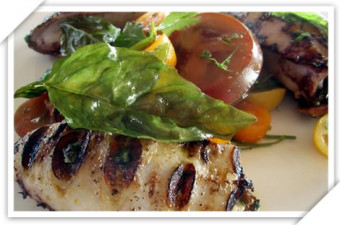 ---
Chris's Greek Salad (Serves 4)
INGREDIENTS
1/2 Lebanese cucumber, diced into lcm cubes
1 small red onion, finely diced
4 medium vine-ripened tomatoes, cut in wedges
1/2 cup Kalamata olives
1O0g Greek feta cheese, sliced into 4
1 teaspoon dried wild Greek oregano
(Available at continental delicatessens)
2-3 tablespoons extra virgin olive oil
METHOD
In four serving bowls, place equal portions of cucumber, onion, tomatoes and olives. Place the feta slices on top of each salad, season with oregano, salt and pepper and drizzle each with some of the olive oil.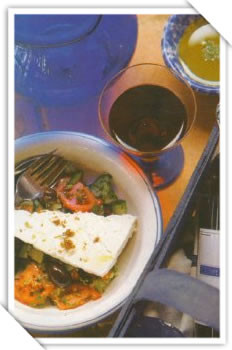 ---
Kakavia (Seafood Soup) (Serves 6)
INGREDIENTS
This soup relies on a good mixture of fresh seafood for flavour and colour, and the following is just a guide.
VEGETABLE PURÉE
125ml olive oil
2 onions, diced
4 large potatoes, diced
3 medium carrots, diced
1/4 head celery, diced
1/4 pumpkin, diced
4 cloves garlic, diced
salt and black pepper
SOUP
Sufficient vegetable purée to thicken (about 2 tablespoons per person)
1 litre fish stock
250ml cream
6 large green prawns
12 large mussels crayfish and/or crab pieces
6 oysters
300g boneless whitefish, cubed
300g scallops
finely chopped chives, for garnish
METHOD
VEGETABLE PURÉE
Heat the olive oil in a large heavy-based saucepan, add all of the diced vegetables and seasoning. Cover, and simmer for 30-40 minutes, until vegetables are tender. Remove from heat and purée in a food processor. Pass through a sieve for a smooth paste.
SOUP
In a saucer blend the vegetable purée, fish stock and cream. Bring to the boil and then reduce the heat to simmer. Add the seafood and cook slowly until all of the seafood is just cooked, about 5 minutes. (Do not overcook, as the seafood will become tough and tasteless) Spoon into bowls and garnish with freshly chopped chives.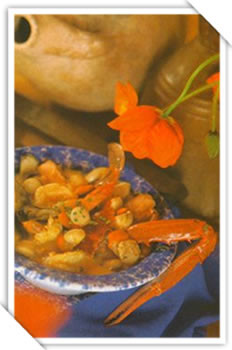 ---
Gingered Scallop, Oyster and Bacon Brochettes (Serves 6)
Ingredients
2 cloves garlic, crushed
2.5cm piece of root ginger, finely diced
125m1 olive oil
salt and pepper
36 plump scallops
20 bacon rashers, rind removed and cut into quarters
3 dozen oysters
METHOD
Mix together the garlic, ginger, olive oil and salt and pepper. Wrap each scallop in one quarter of a bacon rasher and thread onto a skewer (6 to a skewer). Repeat with the oysters. Brush the brochettes with the garlic and ginger oil and leave to marinate for at least 2 hours. Cook on a hot char-grill, turning regularly, for about 5 minutes, until the bacon is cooked. Serve on a bed of seasonal salad leaves.